Model of a

Small Production Line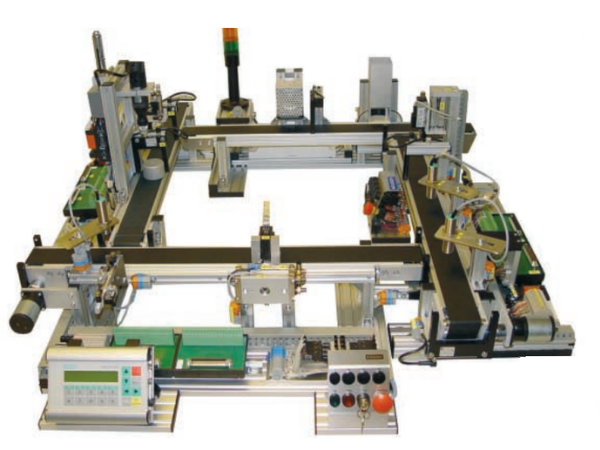 The station consists of 4 integrated modules, representing a sample production process of discrete elements. It is built using industry-grade. It allows students to familiarize with professional sensors, motors, pneumatic components and controllers. 
This station is prepared for up to 8 students working in the same time (in groups of 2) 
Station description:
The station consists of a series of conveyor belts that transfer elements through successive stations arranged in a rectangle. Metal cylinders are elements transported by the belt. 
Set components:
1.Conveyor (4 pieces): 
Length of one part: 680 mm

 

Width: 50 mm

 

Electrically controlled 24V DC motor

 

The steep end facilitates the transfer of components between the conveyors

 
2. Workpiece warehouse: 
Barriers of light

 

Pneumatic ejector

 
3. Reversal and drilling simulation module 
Pneumatic gripper with the possibility of rotating the element

 

Inductive sensor

 

Electric drill (30W, 30.000 rpm)

 
4. Drilling control module: 
Height sensor

 

Barriers of light

 

Ejector of incorrect parts
5. Thermal hardening module:
Halogen lamp simulating heating (0-10V controlled)

 

Light barrier

 

Temperature sensors

 

Light column with 3 light segments to signal the process progress

 
The set also includes:
4 Siemens 1200 series PLC controllers with an educational software 

 

1 HMI 4' panel

 

Complete electrical and pneumatic equipment necessary to start the station

 

Quiet, professional compressor

 

User manuals and sample exercises

 

All mounted on a table on wheels

 

Installation, commissioning, 3-hour onsite training