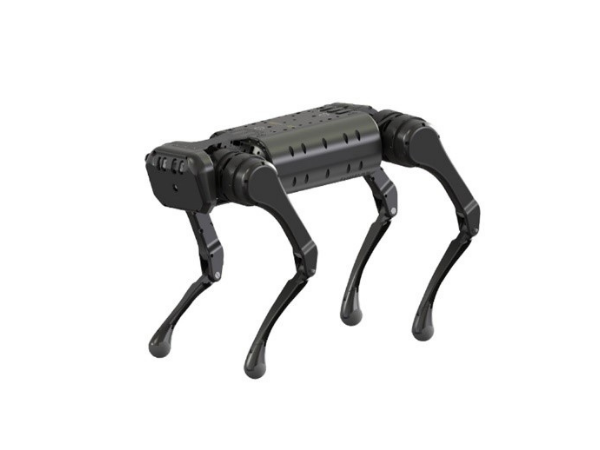 Quadruped robots enable new possibilities for mobile robots in places, where classic wheeled platforms are not enough. A1 excels in speed and dexterity at very low cost. It can be used in teaching, expanding mobile robotics teaching labs in new directions. It adds most value in research, where it can help with data collection, mapping, and similar applications.
Unitree A1 is replaced by a Go1 model.
A1 is available in 2 versions. Standard provides a good entry level to quadruped robotics at very low price. A1 Explorer adds a 2D Lidar and more vision processing power, to enable applications such as SLAM and dynamic obstacle avoidance.
The robot's ships with easy-to-use software to control the robot and run basic functions. A simple Android/iOS App provides user interface to easily control the robot and run advanced functions such as human recognition, tracking and mapping. Users who want to prototype their own algorithms can use the API provided and ROS integration.
Parameter

A1 Standard

A1 Explorer

Size

50x30x40cm

50x30x45cm

Weight:

12.5kg

Payload:

5 kg

Max Speed:

11 km/h

Motors:

33.5 Nm, maksymalna prędkość: 21 rad/s, masa: 605g, wbudowany enkoder 15bit, szczytowa moc z przekładnią: 420W

Movement controller:

4-rdzeniowy procesor Broadcom, 4GB RAM, 32GB ROM

Perception controller:

Raspberry Pi 4, 4GB RAM, 32GB ROM

NVIDIA NX, 8GB RAM, 32GB ROM

Sensors:

Kamera RGBD, IMU, enkodery, czujniki nacisku stopy

Kamera RGBD, IMU, enkodery, czujniki nacisku stopy, lidar 2D

Available ports:

2x HDMI 2xUSB2.0, 2xUSB3.0, 2x Ethernet, zasilanie

2x HDMI 1xUSB2.0, 2xUSB3.0, 1x Ethernet, zasilanie

Power:

4200 mAH (about 30min of constant walk)