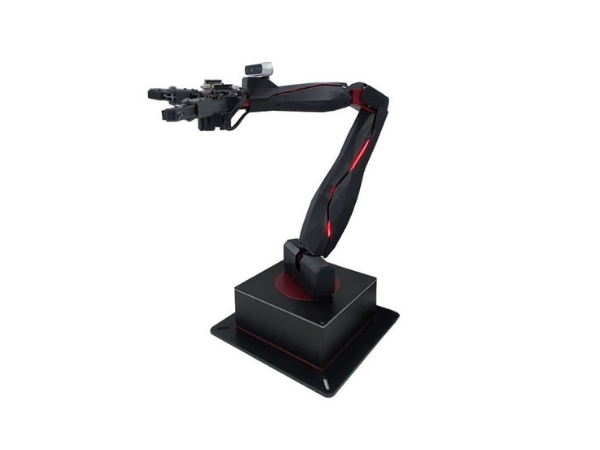 QArm is a robotic arm created with education and scientific research in mind. Like all experiments from Quanser, the arm was built with a completely open archiecture. The user has access to all internal signals, so they can freely create their own control and data processing algorithms. The product provides support of Matlab/Simulnik and Open-Source tools – Robot Operating System (ROS). A built-in gripper and an RGBD camera make the robotic arm a multi-purpose tool. 
The producer also offers a digital twin of this robotic arm that can be used at home. It's a great solution for scientists who don't have constant access to a laboratory and for students learning at home. 
The arm is also available in a virtual version: (click here) 
The Robot is available in two versions: with a built-in controller (direct connection via USB port to a computer) and with SPI interface to interface with any controller.  
| | |
| --- | --- |
| Parameter  | Value  |
| Time  | 8.25 kg  |
| Payload  | 0.2 of 5 kg  |
| The number of degrees of freedom  | 4  |
| Rotation range of each joint  | Base: ± 170 °, arm : ± 85 °, elbow : -95 ° / + 75 °, wrist:  ± 167.5 °   |
| Maximum speed of movement  | ± 90 ° / s   |
| Range  | 750 mm  |
| Camera  | Intel RealSense D415  |
| Gripper  | Integrated 2-step 2-finger gripper  |
| Interfaces in the base (controller)  | PWM, Analog, SPI, UART, USB  |
| Programming environment  | Matlab/Simulink, ROS  |