Universal Board

Process Simulator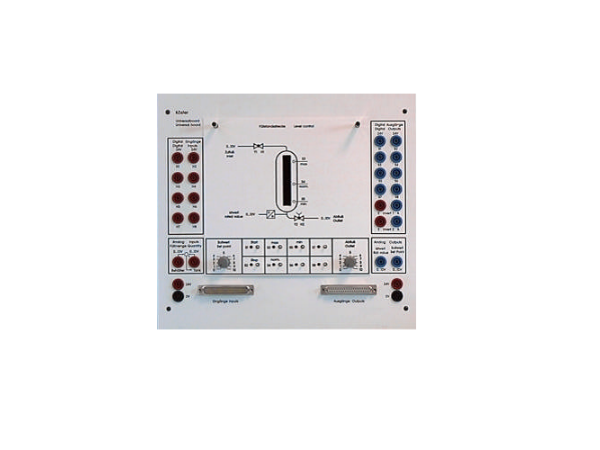 The Universal Board allows simulating various processes in the field of electricity, drives, machine control, processes and more. By performing exercises students may address various challenges typical to industrial automation. The kit comes with 24 add-on cards that illustrate various scenarios. 
The board includes:
8 digital inputs 24V, 8 digital outputs 24V

 

2 inverters 

 

2 analog inputs with 0-10V adder

 

2 analog outputs 0-10V, power supply via 24 V / 0.3A system connector

 

4mm safe electrical socket, 37 pin SUB-D for system connectors

 
Control
Models are controlled by setting and reading digital input and output signals from a PLC connected via DB37 connectors. Additionally, the set is equipped with a control panel with 8 switches. Inverters simulate NC contacts. Potentiometers are used to set and adjust the setpoints and disturbances. Signals from analog inputs are fed to the adder. 
How it works:
The simulator allows students to learn the basics of controlling a wide range of industrial installations. The board is equipped with a LED matrix. After applying the selected card, the user can see the process diagram, the appropriate LED diodes and a 10-segment light bar (for level visualization). Digital inputs and outputs are connected in parallel with sockets and 37-pin system connectors. 
Types of exercises on 24 templates:
Star-delta motor control

 

Polarity switch

 

Resistance starts

 

Swing motion control

 

Cleaning station

 

Bender

 

Drilling station

 

Bender (2)

 

Gate control

 

Lock control

 

Door control

 

Conveyor

 

Sorting line

 

Installation inspection

 

Tank's filling installation

 

Pump control 1

 

Pump control 2

 

Reactor filling machine

 

Buffer tank

 

Filling the tank

 

Compressed air installation

 

Mixing station