Quanser

Rotary Servo Base Unit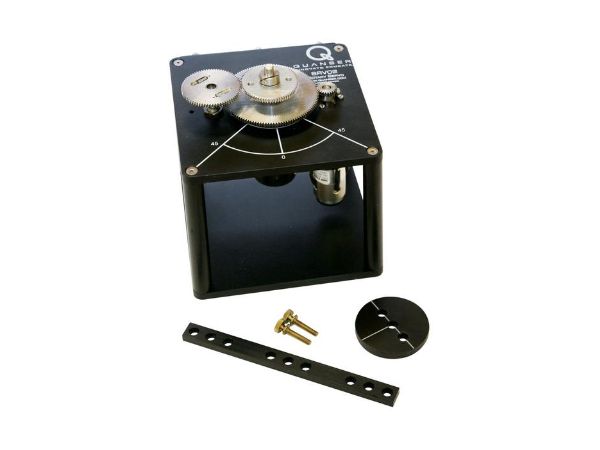 The Rotary Servo Base Unit is a geared servo-mechanism system. The plant consists of a DC motor in a solid aluminum frame. This DC motor drives the smaller pinion gear through an internal gear box. The pinion gear is fixed to a larger middle gear that rotates on the load shaft. The position of the load shaft can be measured using a high-resolution optical encoder or a potentiometer. The encoder is also used to estimate the speed of the motor. 
To product is also available as a virtual version: (click here) 
With a wide range of available add-on modules, this plantcan be used to teach wide array of basic and advanced concepts, such as: 
Flexible elements

 

2 and more degrees of freedom

 

Sensor integration (camera, potentiometer)

 

Torsional forces

 

Gyroscope

 

And others

 
This way a single station can be used to teach and conduct experimental research in various fields of control theory. 
The kit includes all elements necessary to quickly start the station: amplifier, controller, Matlab or LabVIEW software module as well as teaching materials for students.  
Basic technical parameters:
High quality servo motor (6V,1A, 6000 RPM)

 

Potentiometer for measuring the position (

± 

5V)

 

Quadrature encoder (4096 pulses / revolution)

 

Gears with the possibility of changing the gear ratio

 

Complete teaching materials compatible with NI LabVIEW and Matlab / Simulink included,

 

Open architecture allows you to create your own control algorithms.