Quanser

Multi-DOF Torsion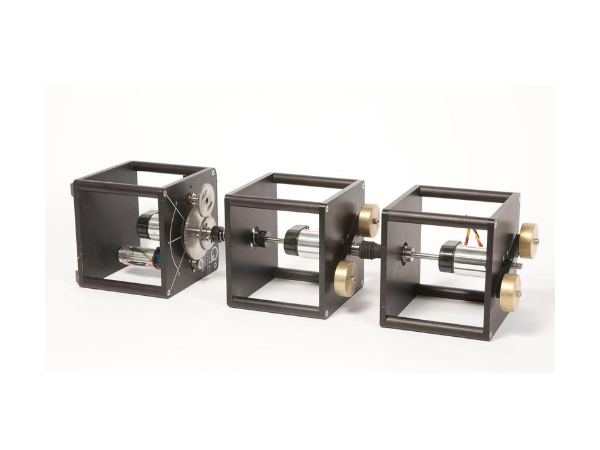 The Torsion Module is a rotary torsional system that consists of an instrumented bearing block, which is mounted in a cubic aluminum frame. A shaft is free to spin inside the bearing block and its angle is measured using an encoder. The shaft can be fitted with either a torsional load or a flexible coupling. 
The assembly made of one Rotary Torsion module coupled to a Rotary Servo Base Unit constitutes one Degree of Freedom (1 DOF) torsional system. The Rotary Servo Base Unit lies on its side so that its DC motor and output shaft are horizontal and able to rotate a flexible coupling attached to a rotational load. The torsional load consists of two inertial disc masses, which can be located at different anchor points along their support bar. Up to seven torsion modules can be coupled in cascade to allow for multi-dimensional control problems.The kit includes all elements necessary to quickly start the station: amplifier, controller, Matlab or LabVIEW module as well as educational materials for students.  
Basic technical parameters:
Base parameters

 

High quality servo motor (6V, 1A, 6000 RPM)

 

Potentiometer for measuring the position 

(

 ±

 

5V)

 

Quadrature encoder (4096 pulses / revolution)

 

Gears with the possibility of changing the gear ratio

 

Complete teaching materials compatible with NI LabVIEW and Matlab / Simulink included 

 

Open architecture allows creating own control algorithms.
Module parameters:

 

Dimensions: 210 x 130 x 130 mm

 

Disk weight: 0.0022 kg

 

Disk diameter: 38 mm

 

Flexible link stiffness: 1.0 Nm / rad