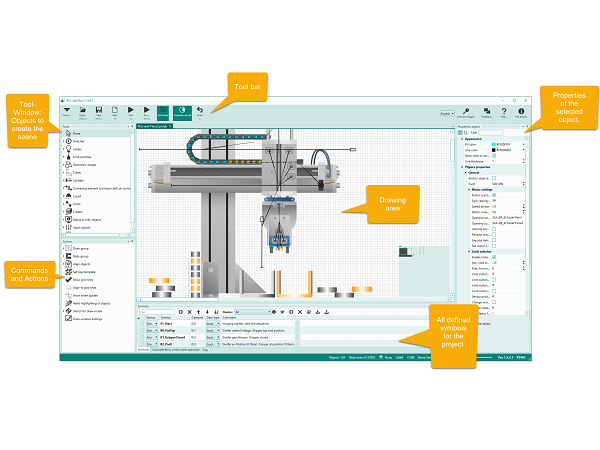 With PLC-Lab you can create your own simplified digital twin for PLC training or to find all logical bugs in your PLC program. The objects in PLC-Lab offer extensive design and setting options, so the variety of project types that can be implemented with PLC-Lab is very high. The objects can be assigned physical properties, which then influence the behavior of the objects during simulation. 
PLC-Lab can be connected to many different systems:
Software systems:
PLCSIM-S7300 (Simatic Manager)
PLCSIM-S7300 (TIA PORTAL)
PLCSIM-1200 (TIA PORTAL)
PLCSIM-1500 (TIA PORTAL)
PLCSIM-Advanced
Intern Memory (IM, Flags)
WinSPS-S7
Grafcet-Studio
Hardware systems:
S7-300 (Siemens AG)
S7-400 (Siemens AG)
S7-1200 (Siemens AG)
S7-1500 (Siemens AG)
LOGO! (Siemens AG)
Licences properties:
Single-License: You can manage the license with a license manager. Moving the license between PCs is very easy. Furthermore The license can never be lost because it is cloud-based.
Network-License: The licenses are shared in the local network via a license server.
Cloud-License: The licenses are shared over the Internet, independent of the location. This allows an educational institution to share the licenses with students.