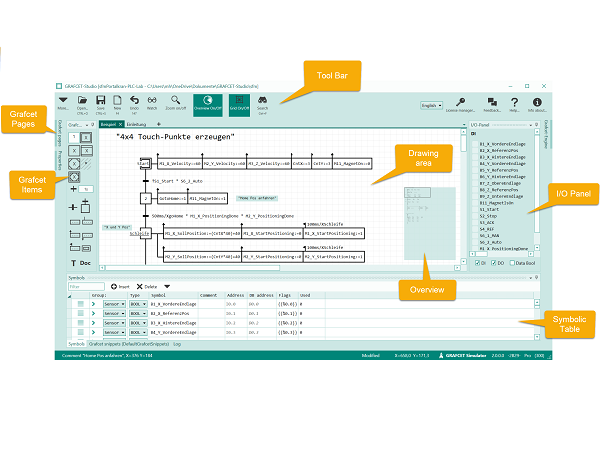 Grafcet-Studio is a modern software tool for the Grafcet standard DIN EN 60848, making it easy and fast to draw a Grafcet chart with copy & paste and auto-completion. Once the Grafcet chart has been designed, it can be tested with the integrated simulator. So, you can check if the Grafcet behaves as desired. During the simulation you can switch inputs on and off and you can watch how the Grafcet logic reacts. For an even more comfortable simulation, you can connect a virtual system with the Grafcet logic. In addition, Grafcet-Studio offers the possibility to transfer the Grafcet to a device or PLC at the push of a button. The Grafcet logic no longer needs to be manually converted into a program.
Properties of the License:
Perpetual license (no time limitation):
After purchase included: 1-year free updates. After this year you can purchase a subscription and then again use the latest updates for 1 year. You can also use your old version for a unlimited time.
License is moveable between PCs by the license manager.
After purchase you will receive a license key and the download link.
To activate or deactivate the license your PC must be connected to the internet. After the activation no internet access is required any more.
License server:
If you have 5 or more licenses you can purchase a license server.
Local License Server: To share the licenses in your local network.
Cloud License Server: To share the licenses location-independent. A institution can lend licenses to students.