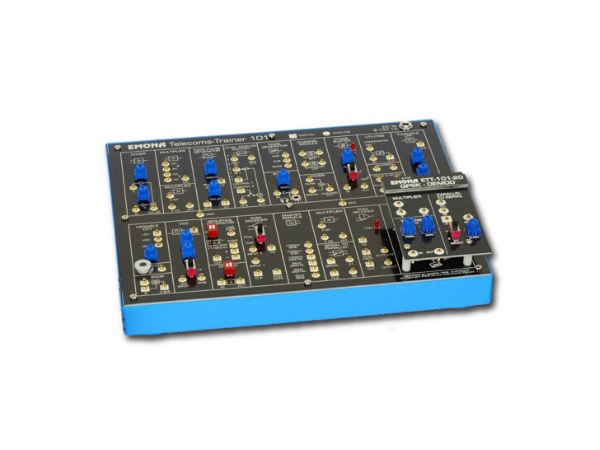 Emona BISKIT-101 is a complete didactic stand for teaching the basics of telecommunications. The Australian company Emona has conceived the idea of an innovative way of teaching that allows students to easily combine theory with practice. It is achieved thanks to the direct transfer of flowcharts known from textbooks to hardware. 
The experiment is delivered with a detailed manual book allowing for quickly starting the laboratory. 
Selected features:
Analog telecommunications: AM, FM, DSB, SSB, PAM, TDM, PWM, superheterodyne and PLL, QAM, SNR
Digital telecommunications: PCM, PCM-TDM, ASK, BPSK, FSK, GFSK, eye diagrams, DPSK, QPSK
Possibility of expansion with the following modules:
QPSK modulation / demodulation
Coding and PLL
Module for creating own layouts
Optical fiber technique
Technical specifications:
Front panel divided into 27 sections corresponding to single logical functions

 

Built-in generator: sine: 2kHz and 100kHz, cosine: 100kHz, rectangular: 2kHz, 8kHz, 100kHz

 

Audio input and output

 

Ports expanded with additional modules

 

Dimensions: 232 x 280 x 70 mm

 

Power supply: 9-15 VDC (mains adapter included)

 
The set includes: a set of 20 coloured connection cables, a power supply, 3 cables with BNC connectors, headphones.