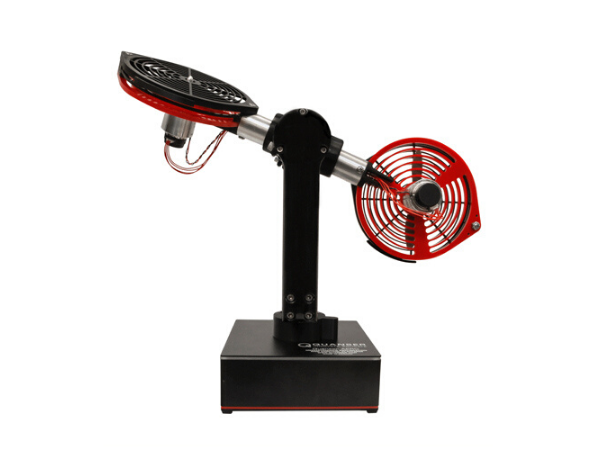 Quanser AERO is a station for learning basic and advanced skills in control theory from Quanser, the world leader in educational solutions.  
Its compact form factor, high-quality components and extensive teaching materials, make it fit perfectly in students' laboratories.  
The ability to reconfigure the propellers allows demonstrating many features – from modelling and identification of systems to advanced control algorithms. Students address actual engineering problems (helicopters, drones), which increases their motivation and interest.  
This product is also available as a virtual version: (click here) 
Basic technical parameters:
2 efficient 

colreless

 DC motors DC (15.6 Ω, 57.7 Nm / 

A)

 

Built-in amplifier with current measurement 

 

2 encoders with a resolution of 512 pulses / revolution (lift) and 1024 pulses / revolution (rotation)

 

Measurement of rotational speed of motors with digital tachometers

 

3-axis gyroscope (±

 

245 dps )

 

3-axis accelerometer (±

 

2g)

 

Unlimited rotation

 

Lift range: 124⁰

 

Replaceable rotor with safety cage

 

Available with different interfaces:

 

QFLEX 2 USB (direct connection to PC)

 

QFLEX 2 Embedded (SPI)

 

QFLEX 2 NI 

MyRIO

 (connector adapted to NI 

MyRIO

)

 

Compatible with NI LabVIEW, Matlab / Simulink and any microcontroller programming language

 

Comprehensive educational materials included

 

Open architecture allows to create customized control algorithms