Kinova Ultralight Robotic Arm

with 7 Degrees of Freedom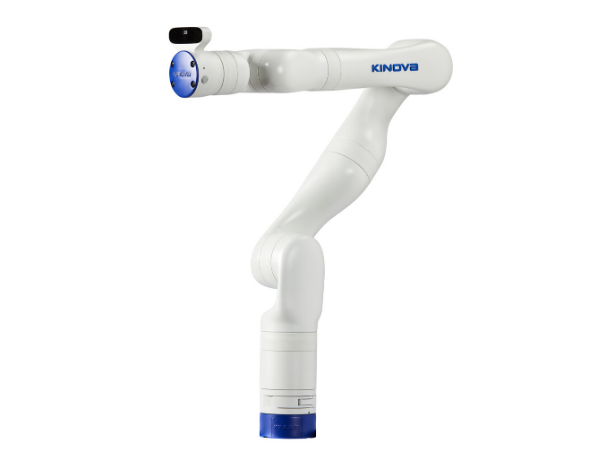 Kinova is a producer of ultralight robotic arms used by leading universities and research institutes around the world. They are used in various applications – from helping the disabled to defusing bombs.  
The third generation is based on Kinova's many years of experience. The arm has been enriched with the latest technologies and solutions. This arm is unique because of exceptionally low weight, rich set of sensors (including RGBD camera), 7 degrees of freedom and open architecture, which makes it unique for demanding research applications, including areas such as: 
mobile manipulation,

 

human-robot interaction,

 

artificial intelligence, 

 

and others.

 
Parameter 

Value 

The number of degrees of freedom 

7 

Weight with controller without gripper 

8.2 kg 

Lifting capacity 

4 kg 

Rotation range of each joint 

Infinite (software limitation to avoid collisions) 

Maximum speed of movement 

50 cm / s 

Power consumption 

Average 36W, maximum 155W 

Range 

902 mm 

Sensors in each wrist 

Torque, current, voltage, temperature sensor and encoder 

Built-in camera in the bunch 

2D camera (up to 1920 x 1080 @ 30, 15 fps) 

3D camera (up to 480 x 270 @ 30.15.6 fps) 

Maximum frequency of control from an external controller 

1kHz 

Interfaces in the database (controller) 

USB, Ethernet, HDMI, Wi-Fi, Bluetooth, Digital lines 

Programmable and controllable 

Matlab, ROS, C ++, Python 
The arm is available with the option of quick disassembly of the base.
| | |
| --- | --- |
| Technical parameters of the gripper  | Value  |
| Number of fingers  | 2  |
| Maximum spacing  | 85 mm  |
| Compressive strength  | 20-235 N  |
| Maximum lifting capacity  | 5 kg  |
| Weight  | 0.9 kg  |
| Closing speed  | 20-150 mm / s  |